PRODUCT
Financial Empowerment as a Service™
The only payments-driven technology focused on delivering positive financial outcomes inside existing customer experiences.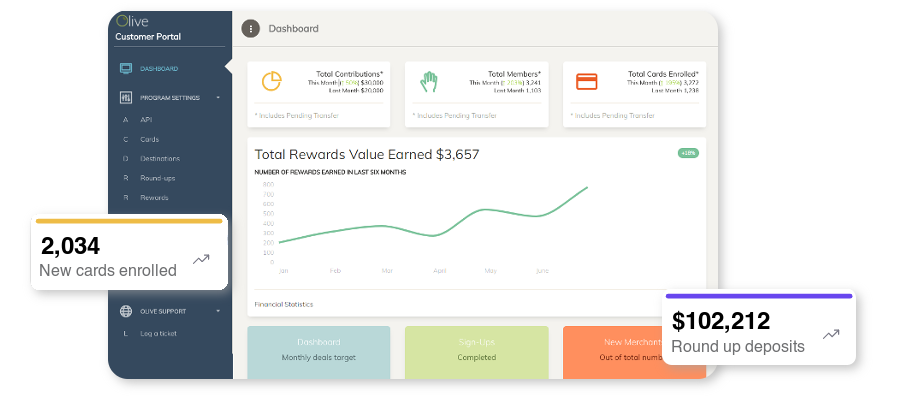 Olive Platform
Our payments-driven technology aggregates round ups, cashback rewards and sponsored contributions towards shared and individual goals. And unlike developer-focused financial APIs that rely on customer banking credentials, Olive connects directly to leading payment networks, and uses customer payment data safely to help you deliver positive financial outcomes.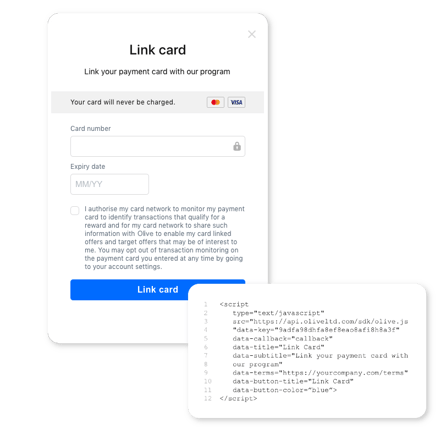 FOR YOUR CUSTOMERS
Simple card enrollment
Olive makes safely connecting a card as easy as making an online payment. We never ask for banking credentials, nor do we store personal information about your customers. Olive works with Visa® and Mastercard® cards.
POWERFUL FEATURES
Enroll once. Access everything.
Enrolled customers start reaching their financial goals with a suite of fully integrated services
Give your customers full control over how they round up their purchases in real-time. Olive gives you full control over minimums, maximums, and calculation approach for round ups.
Access a complete library of merchant funded offers provided by Olive or added by you. Allow customers to direct reward earnings into the accounts they hold with you.
Engage corporate partners to help your customers reach their financial goals by providing matching on the contributions your customers make.
Support individual customer goals and track progress towards shared group goals, and in real-time as purchases-drive contributions.
Event-triggered Notifications
Purchase-triggered events and outcomes deliver context aware notifications to your application for direct delivery to the channels your customers already use.
Automatically aggregrate customer contributions and trigger funding through existing pre-authorized debit processes or a payment via your own gateway.