OLIVE MERCHANTS
Targeted, frictionless, profitable transaction generators
Olive Cashback Rewards deliver card-linked offers designed to drive your marketing goals: Aquire new customers, increase transaction value, create frequency and loyalty, and reinforce brand awareness. All without the need for any new hardware, coupons or reward cards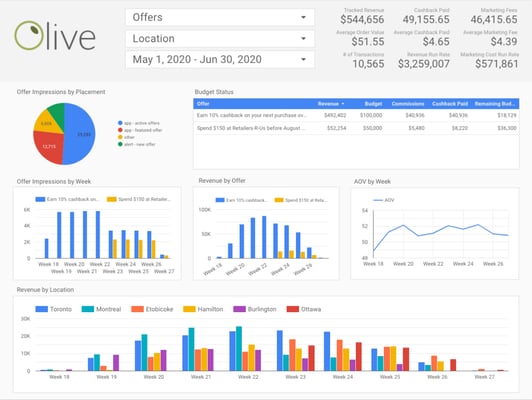 Deliver more than cash back. Engage customers.
Reach and acquire new customers with highly discoverable offers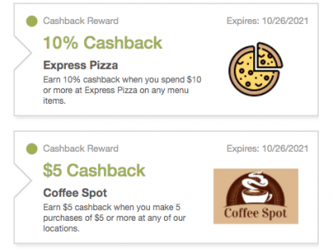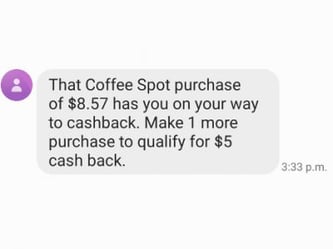 Drive engagement and purchases with real-time notifications and updates
Grow brand affinity by helping consumers accelerate personal goals
Cash back rewards are easy for customers.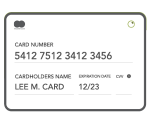 Enroll
Consumers add a favourite payment card to their account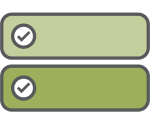 Discover
Geo-tagged "near me", new offer alerts & in-app search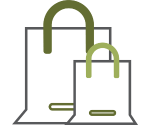 Purchase
Spend normally. No codes, coupons or extra hardware



Celebrate
Earned rewards are celebrated with real-time notifications


Pay for performance. Not impressions or clicks.
How easy is it to run a cash back offer?
Create an offer.
Pick from a set of templates designed to drive sales or create your own from scratch.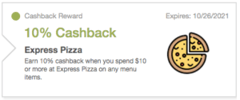 Sample: Spend $50 or more and get $5 cashback
Offer consumers incentive in the form of $ or % cashback and celebrate their loyalty the minute they make the purchase.
Want to boost AOV for a specific day?
With Olive you control when and where the the offer can be redeemed.
Sample: Buy 5 at $5 dollars or more and get $5 cashback
This punchcard-like offer, not only keeps track of frequent purchases, it reminds consumers of how many more purchases are needed to earn their reward.
Which is more repeat purchases for you.

Sample: Spend $100 before the end of the month and earn $10 cashback
Cumulative spend offers reward consumers for spending a minimum amount with you over a period of time.
Whether that is 1 visit, 2 visits or 5, you only pay when they spend a minimum amount with you.
Fund your offer.
Ensure cashback gets to your customer when they complete the sale.


1 Add your payment method.
2 Load money into your account for offer cashback and marketing fees.
3Set up an account reload reminder or automated payment.
More than 5 locations?
Contact our merchant team for more funding options.
Publish. Get discovered.
Make your offers available to all or part of the Olive Customer ecosystem.


Cashback Rewards Are For
Restaurants / Cafés / Pubs
Retail
Grocers
Gas
E-Commerce
Entertainment
Travel
Olive Customers You Will Reach
Robo-advisors
Financial institutions
Payroll & benefits providers
National charities
Luxury goods and services
Automotive
Pay only when your offer is successful.

Drive new business with a card linked offer today.
Frequently Asked Questions
Is there a minimum cashback amount I need to provide?
Typical cashback ranges from 3-10% of the transaction value. We recommend configuring an offer's minimum spend such that it's reward is no less than $1 cashback.
Are there any other fees I need to be aware of?
Olive's fees for merchants are fully transparent and performance based.
a) The Cashback given to the consumer as their reward, and
b) The Marketing Fee paid to Olive. This is the equivalent of a commission.
Both of these fees are only charged when the consumer meets the minimum purchase requirements of your offer. Olive does not charge any other fees for impressions, clicks, distribution, or reporting as other platforms do.
Do I pay the cashback and marketing fees on every purchase?
No. Unlike many other cashback programs, Olive provides you with full control over when cashback is rewarded to the consumer. Allowing you to design offers that drive the business benefits you are looking for. Setting a minimum purchase amount and limiting the offer to a specific number of redemptions is one way we improve on other cashback programs available.
Can I set a fixed monthly budget?
Yes and budget can be set 2 ways:
a) By dollar amount spent. Set total spend for the month, the offer turns off when budget reached.
b) By number of offer redemptions. Set total number of redemptions allowed. This is normally for %-based offers where you prefer a minimum audience vs minimum total spend.
What happens to unused budget?
Olive offers are fully performance-based. If there is any unused budget amount it is fully refundable (not charged).
Do I have to pay the cashback and marketing fee on returns?
While Olive uses a transaction's authorization data to calculate the cashback, there is a secondary check against settlement data for returns that occur over the next 30 days, and that are not paid back to the user as in-store credit (i.e. it has to be a cash refund). Cashback applied to a user's account is recovered from amounts on their next reward earnings (regardless of merchant) by Olive.